If you interested in Odoygiant aka Dodi Rosadi's works, projects,
and activities updates,
Please don't hesitate to drop your mail address
in our inbox or, just contact us:
Mail at : odoygiant@yahoo.co.id
Phone : +89655221000
BB PIN : 2172FE3C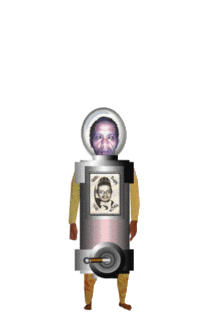 Born in Bandung July, 4 1969, Dodi Rosadi is one of emerging contemporary artist from Indonesia, devoted lover to both aesthetic taste and interest in the two opposing tendencies, lowbrow art and the Indonesian's folklore art.


1989 – 1994 : Bachelor degree, Graduate from an institute for teacher education and educational sciences named IKIP Bandung (The Indonesian University of Education), in Art Design.
ART PERFORMANCES
Individual Exhibition
1995 : ISOLATED, at Pentagon Hall, Bandung Institute of Teacher Education in Art Design
1996 : DREAMS, THE SADDEST SOUL, at Bandung
1998-2004 : BEHAVIORAL THINKING, an art of philately to the world
2004 : ARTEFUX, at IF Venue Bandung
Community Exhibiton
Being a part of art exhibition actively, since 1990 through 2006, at Jakarta Art Award, Pasar Seni Ancol
AWARDS
1995 : 1st place on Painting Competittion, at Pasar Seni ITB & C59
1997: – 2nd place on Cover Design Competition IKAPI West Java,
– Finalist of Philip Morris Awards
1998: 2nd Place on Poster Design Competition at Goethe Institute Bandung
1999: – Finalist of Phillip Awards
– Best Illustrator for Children Book, National Education Department
2002: 2nd Place on Fiction Writing and Illustrated Story Competition, National Education Departmentt
2004: 1st Place Gravity Dago Festival, sponsored by Djarum Super
WORK EXPERIENCES
1994 – 1999 : Freelance Illustrator at Pikiran Rakyat Newspaper Bandung
1994 until now: Freelance Illustrator at Horison, Literary Magazine
1994 – 2004: Freelance Illustrator at Kalam, Culture Journal
1999-2004: Freelance Illustrator at Mizan
2005 until now: Book Designer at Mizan Pustaka Publisher.